Upcoming Events
Events are open to all members and the general public. Sign up for email event updates by registering with Night Sky Network.
Most of our events happen at the Chabot Space and Science Center. Get directions here.

Next General Meeting
Saturday, September 21st, 2019
7:30 P.M.
Galileo Room
Chabot Space and Science Center

Our Speaker is Molly Wakeling, UC Berkeley Dept. of Physics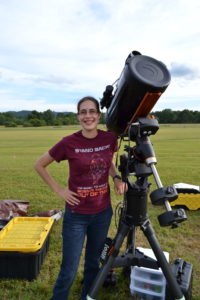 Origin of the Elements: A Story of Stellar Nucleosynthesis
Where do we come from? A fundamental question of the human species.  We might not know the answer, but we do know how the atoms that make up us, the sun, the planets, and the stars were made.  Many schoolchildren know that the sun is a star made of hydrogen and helium gas – much like the early universe.  But where did that original hydrogen and helium come from?  And what about the rest of the periodic table of elements?
The story of our chemical makeup is the story of nucleosynthesis.  Big Bang nucleosynthesis generated the seeds of hydrogen and helium within the first 20 minutes of the universe's existence.  Long after that, the first stars formed, where a process slightly more complicated than you might think produces some of the heavier elements.  Stars can only produce atoms up to iron, however – the rest require far more energetic processes.
Special Events

Calstar: Wednesday, September 25th – Saturday, September 28th (4 nights).
Join dozens of amateur astronomers for this low key astrophotography and observing event at Lake San Antonio, California. Visit the Calstar web site for more information. https://calstar.observers.org/
---
Telescope Makers Workshop
The Telescope Maker's Workshop is one of few regularly scheduled such workshops in the world! Every Friday from 7 to 10 PM, amateur telescope makers from the bay area meet at the Chabot Space & Science Center and learn how to grind, shape, polish, and figure mirrors for reflecting telescopes, under the guidance of EAS volunteers. The workshop is free; participants pay only for the mirror blanks and grinding tools, which generally cost between $100-$300, depending on the size of the mirror. All the instruction, grinding grit, testing equipment, and camaraderie is free of charge! For more information, email Richard Ozer at pres@eastbayastro.org, or come by the workshop any Friday to see what it's all about.
---
Outreach
EAS sends volunteers to schools, libraries, and anywhere curious aspiring astronomers gather. EAS volunteers bring their own equipment or borrow telescopes. Students, parents, and teachers are always thrilled to look through the telescopes and ask questions. You'll meet all sorts of interesting people and provide a unique and inspiring experience to kids and parents who may have never looked through a telescope before. Find our next event on the calendar above.
Inquire about and request visits by e-mailing EAS Outreach Coordinator Raymond Howard at outreach@eastbayastro.org. Visit our outreach page to find out about upcoming events.
---
Members Only Viewing Nights (MOVN)
Once a month, we schedule a Members Only Viewing Night at the Chabot Telescope Deck for both EAS and Chabot members. This is our opportunity to look through Chabot's historic instruments and research telescope, as well as bring our own equipment to share in a more quiet venue. The schedule for MOVN appears in the event calendar below.
---
Event Calendar
Header photo by EAS member Alan Roche.