Upcoming Events
Events are open to all members and the general public. Sign up for email event updates by registering with Night Sky Network.
Most of our events happen at the Chabot Space and Science Center. Get directions here.
---
Next General Meeting
Saturday, August 21st, 2021
Our meeting begins promptly at 7:00 P.M.
Meetings are held in Virtual Space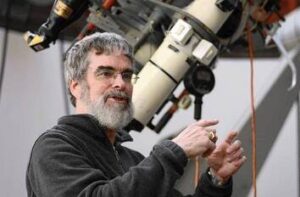 Our guest speaker for the evening is Brother Guy Consolmagno, Director of the Vatican Observatory and President of the Vatican Observatory Foundation.
Astronomical Ideas That Were Almost Correct…
Astronomy is more than just observing; it's making sense of those observations. A good theorist needs to blend a knowledge of what's been observed, with a good imagination… and no fear of being wrong. Ptolemy in ancient Rome, the medieval bishops Oresme and Cusa, the 19th century astronomers Schiaparelli and Pickering, all rose to the challenge; and they were all almost correct. Which is to say, they were wrong… sometimes hilariously, sometimes heartbreakingly so. What lessons can 21st century astronomers take from these discarded images of the universe? 
Brother Guy Consolmagno SJ is Director of the Vatican Observatory and President of the Vatican Observatory Foundation. A native of Detroit, Michigan, he earned undergraduate and masters' degrees from MIT, and a Ph. D. in Planetary Science from the University of Arizona. He was researcher at Harvard and MIT, served in the US Peace Corps (Kenya), and taught university physics, before entering the Jesuits in 1989.

At the Vatican Observatory since 1993, his research explores connections between meteorites, asteroids, and the evolution of small solar system bodies, measuring meteorite physical properties in Castel Gandolfo and observing distant asteroids with the Vatican's telescope in Arizona. Along with more than 200 scientific publications, he is the author of six popular books including Turn Left at Orion (with Dan Davis), and Would You Baptize an Extraterrestrial? (with Paul Mueller). 

Dr. Consolmagno has served as chair of the American Astronomical Society Division for Planetary Sciences (DPS) and president of the IAU Commission on Planets and Satellites; the IAU has named asteroid 4597 Consolmagno in his honor. In 2014 he received the Carl Sagan Medal from the DPS for excellence in public communication in planetary sciences.

In 2015, Pope Francis appointed Dr. Consolmagno as director of the Specola Vaticana (Vatican Observatory). As such he serves as an ex-officio member of the Pontifical Academy of Sciences.
Web site: www.VaticanObservatory.org
This talk will be available live and publicly at:
EAS Members will get a private Zoom invitation by Email
---
Outreach
[In person events are on hold because of COVID, contact us for possible virtual events, or visit http://www.chabotspace.org for scheduled public virtual telescope viewing events]
EAS sends volunteers to schools, libraries, and anywhere curious aspiring astronomers gather. EAS volunteers bring their own equipment or borrow telescopes. Students, parents, and teachers are always thrilled to look through the telescopes and ask questions. You'll meet all sorts of interesting people and provide a unique and inspiring experience to kids and parents who may have never looked through a telescope before. Find our next event on the calendar above.
Inquire about and request visits by e-mailing EAS Outreach Coordinator Raymond Howard at outreach@eastbayastro.org. Visit our outreach page to find out about upcoming events.
---
Members Only Viewing Nights (MOVN)
[In person events are on hold because of COVID, visit http://www.chabotspace.org for virtual telescope viewing events]
Once a month, we schedule a Members Only Viewing Night at the Chabot Telescope Deck for both EAS and Chabot members. This is our opportunity to look through Chabot's historic instruments and research telescope, as well as bring our own equipment to share in a more quiet venue. The schedule for MOVN appears in the event calendar below.
---
Barcroft High Altitude Star Party
We're sorry. Because of COVID-19, EAS has cancelled the 2021 Barcroft High-Altitude Star Party. We'll try again in 2022.
---
Event Calendar
Header photo by EAS member Alan Roche.