Upcoming Events
Events are open to all members and the general public. Sign up for email event updates by registering with Night Sky Network.
Most of our events happen at the Chabot Space and Science Center. Get directions here.

Next General Meeting
Saturday, October 19th, 2019
7:30 P.M.
Galileo Room
Chabot Space and Science Center

Our Speaker is Dr. Ross Beyer, Carl Sagan Center, SETI, NASA Ames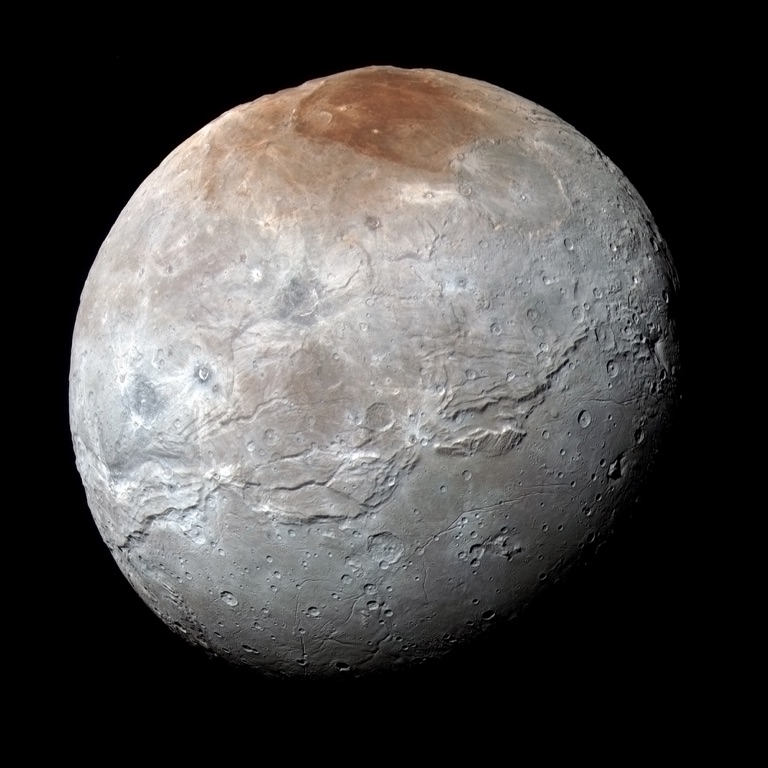 Charon, Pluto's Mysterious Moon
Pluto's large moon Charon turned out to be far more interesting than scientists expected. Pluto was the star of the New Horizons show, but the features on Charon's surface tell a fascinating tale of how icy worlds could form far from the gravitational influences of the giant planets. There is evidence of a world-wide sub-surface ocean early on, and of global expansion as that ocean froze solid. Charon's surface also has a region of plains where icy materials may once have flowed and smoothed over the fractures present elsewhere on its surface. Dr. Ross Beyer will be your guide through this story of formation and change in the frozen reaches of the outer Solar System.
Dr. Ross Beyer is a Planetary Scientist with the Carl Sagan Center at the SETI Institute and NASA Ames Research Center. His interests include surface features, surface processes, remote sensing, and photography of the solid bodies in our Solar System—if you can stand on it, he's interested in what it's like and how it got that way. He was a Participating Scientist with the Lunar Reconnaissance Orbiter Camera, serves as a Co-Investigator with the HiRISE instrument on the Mars Reconnaissance Orbiter, and has worked to help certify safe landing sites for Mars landers and rovers starting with Spirit and Opportunity. He is also a member of the New Horizons Science Team that explored the Pluto System and is currently exploring in the Kuiper Belt.

---
Telescope Makers Workshop
The Telescope Maker's Workshop is one of few regularly scheduled such workshops in the world! Every Friday from 7 to 10 PM, amateur telescope makers from the bay area meet at the Chabot Space & Science Center and learn how to grind, shape, polish, and figure mirrors for reflecting telescopes, under the guidance of EAS volunteers. The workshop is free; participants pay only for the mirror blanks and grinding tools, which generally cost between $100-$300, depending on the size of the mirror. All the instruction, grinding grit, testing equipment, and camaraderie is free of charge! For more information, email Richard Ozer at pres@eastbayastro.org, or come by the workshop any Friday to see what it's all about.
---
Outreach
EAS sends volunteers to schools, libraries, and anywhere curious aspiring astronomers gather. EAS volunteers bring their own equipment or borrow telescopes. Students, parents, and teachers are always thrilled to look through the telescopes and ask questions. You'll meet all sorts of interesting people and provide a unique and inspiring experience to kids and parents who may have never looked through a telescope before. Find our next event on the calendar above.
Inquire about and request visits by e-mailing EAS Outreach Coordinator Raymond Howard at outreach@eastbayastro.org. Visit our outreach page to find out about upcoming events.
---
Members Only Viewing Nights (MOVN)
Once a month, we schedule a Members Only Viewing Night at the Chabot Telescope Deck for both EAS and Chabot members. This is our opportunity to look through Chabot's historic instruments and research telescope, as well as bring our own equipment to share in a more quiet venue. The schedule for MOVN appears in the event calendar below.
---
Event Calendar
Header photo by EAS member Alan Roche.