Upcoming Events
Events are open to all members and the general public. Sign up for email event updates by registering with Night Sky Network.
Most of our events happen at the Chabot Space and Science Center. Get directions here.
---
Next General Meeting
Saturday, October 16th, 2021
Our meeting begins promptly at 7:00 P.M.
Meetings are held in Virtual Space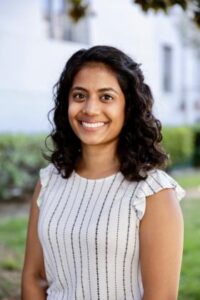 Our guest speaker for the evening is Dr. Ekta Patel, Miller Fellow at UC Berkeley's Miller Institute for Basic Research.
Satellite Galaxies in the Local Group
Our Local Group of galaxies is composed of our Milky Way; its twin galaxy, Andromeda (M31); and the dozens of small "satellite" galaxies orbiting around each of them. Satellite galaxies are thought to be the building blocks of more massive galaxies, therefore tracking the orbital histories of satellite galaxies in the galactic neighborhood is crucial to our understanding of how the Milky Way and Andromeda galaxies arrived at their current properties. Since galaxies are embedded in halos of dark matter — the invisible matter that makes up 85% of the matter in the Universe — satellite galaxies also act as tracers of this massive, mysterious matter. In this talk, I will explain how the individual orbital histories of these galaxies help us learn about the evolution of satellites themselves. Additionally, I will demonstrate how the collective motion of these systems of satellite galaxies can reveal important characteristics of their host galaxies, including the properties of their dark matter halos.
Dr. Ekta Patel is a Miller Fellow at UC Berkeley's Miller Institute for Basic Research. She utilizes simulations and models to understand the dynamics of satellite galaxies orbiting around our own Milky Way and its neighboring galaxy, Andromeda. She is also interested in how these satellites inform our knowledge of the galaxies that they are orbiting around. Ekta graduated from New York University in 2014 with a B.A. in Physics. She completed her Ph.D. in Astronomy & Astrophysics in 2019 under the supervision of Professor Gurtina Besla at the University of Arizona where she was also an NSF Graduate Research Fellow.
This talk will be available live and publicly at:
EAS Members will get a private Zoom invitation by Email
---
Outreach
[In person events are on hold because of COVID, contact us for possible virtual events, or visit http://www.chabotspace.org for scheduled public virtual telescope viewing events]
EAS sends volunteers to schools, libraries, and anywhere curious aspiring astronomers gather. EAS volunteers bring their own equipment or borrow telescopes. Students, parents, and teachers are always thrilled to look through the telescopes and ask questions. You'll meet all sorts of interesting people and provide a unique and inspiring experience to kids and parents who may have never looked through a telescope before. Find our next event on the calendar above.
Inquire about and request visits by e-mailing EAS Outreach Coordinator Raymond Howard at outreach@eastbayastro.org. Visit our outreach page to find out about upcoming events.
---
Members Only Viewing Nights (MOVN)
[In person events are on hold because of COVID, visit http://www.chabotspace.org for virtual telescope viewing events]
Once a month, we schedule a Members Only Viewing Night at the Chabot Telescope Deck for both EAS and Chabot members. This is our opportunity to look through Chabot's historic instruments and research telescope, as well as bring our own equipment to share in a more quiet venue. The schedule for MOVN appears in the event calendar below.
---
Barcroft High Altitude Star Party
We're sorry. Because of COVID-19, EAS has cancelled the 2021 Barcroft High-Altitude Star Party. We'll try again in 2022.
---
Event Calendar
Header photo by EAS member Alan Roche.