Upcoming Events
Events are open to all members and the general public. Sign up for email event updates by registering with Night Sky Network.
Most of our events happen at the Chabot Space and Science Center. Get directions here.
---
Next General Meeting
Saturday, February 27th, 2021
Our meeting begins promptly at 7:00 P.M.
Meetings are held in Virtual Space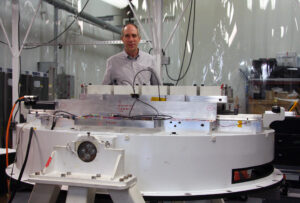 Our guest speaker for the evening is Dr. Brian McLeod, Harvard-Smithsonian Center for Astrophysics
How to build the world's biggest telescopes
Increasing our knowledge of how the universe works has always been enabled by technological development. From the invention of the telescope by Galileo, over 400 years ago, to the development of 8 to 10 meter class telescopes and the launch of the Hubble telescope at the end of the last century, fantastic new discoveries have been made by users of the latest and greatest telescopes. Progress continues to this day, with three major new telescopes under development world-wide. After a brief overview Brian will concentrate on the current development of the Giant Magellan Telescope, a 25m diameter telescope expected to see light later this decade on Las Campanas Peak in Chile. Here are some of the questions he will address: Who's designing and building it? What is the process for carrying out such a big project? Who will get to use it and what questions will they answer with the telescope?
This talk will be available live and publicly at:
EAS Members will get a private Zoom invitation by Email
---
Outreach
[In person events are on hold because of COVID, contact us for possible virtual events, or visit http://www.chabotspace.org for scheduled public virtual telescope viewing events]
EAS sends volunteers to schools, libraries, and anywhere curious aspiring astronomers gather. EAS volunteers bring their own equipment or borrow telescopes. Students, parents, and teachers are always thrilled to look through the telescopes and ask questions. You'll meet all sorts of interesting people and provide a unique and inspiring experience to kids and parents who may have never looked through a telescope before. Find our next event on the calendar above.
Inquire about and request visits by e-mailing EAS Outreach Coordinator Raymond Howard at outreach@eastbayastro.org. Visit our outreach page to find out about upcoming events.
---
Members Only Viewing Nights (MOVN)
[In person events are on hold because of COVID, visit http://www.chabotspace.org for virtual telescope viewing events]
Once a month, we schedule a Members Only Viewing Night at the Chabot Telescope Deck for both EAS and Chabot members. This is our opportunity to look through Chabot's historic instruments and research telescope, as well as bring our own equipment to share in a more quiet venue. The schedule for MOVN appears in the event calendar below.
---
Barcroft High Altitude Star Party
We're sorry. Because of COVID-19, EAS has cancelled the 2021 Barcroft High-Altitude Star Party. We'll try again in 2022.
---
Event Calendar
Header photo by EAS member Alan Roche.