Upcoming Events
Events are open to all members and the general public. Sign up for email event updates by registering with Night Sky Network.
Most of our events happen at the Chabot Space and Science Center. Get directions here.
Next General Meeting
Saturday, September 15th, 7:30pm
Chabot Space and Science Center, Galileo Room (Enter from the rear side gate between the two buildings. Door will be open).
Our Speaker is Pranvera Hyseni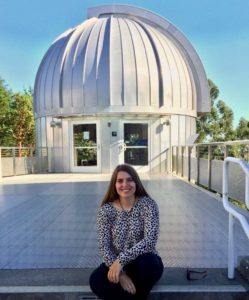 Pranvera Hyseni is the "Founder and Director" of the Astronomy Outreach of Kosovo (AOK) which is the largest non-profit astronomy outreach program in the Republic of Kosovo now in its first decade of independence after the armed conflict.
Often seen on television and is an icon of social media, Pranvera and her organization have received several recognition awards. Selected as one of 24 winners in the world for The Mars Generation's "24 Under 24 Leaders and Innovators in STEAM and Space Award", Pranvera presentation "Little Things Make a Big Difference" is about the history of astronomy in Kosovo during the last few decades and how AOK's STEM activities are improving scientific literacy to a young generation, by providing free activities in schools and universities. It is her mission to educate and inspire others in order to change the world.
Special Events


Calstar: Wednesday, September 5th – Sunday, September 9th.
Join dozens of amateur astronomers for this low key astrophotography and observing event at Lake San Antonio, California. Visit the Calstar web site for more information. https://calstar.observers.org/
---
Telescope Makers Workshop
The Telescope Maker's Workshop is one of few regularly scheduled such workshops in the world! Every Friday from 7 to 10 PM, amateur telescope makers from the bay area meet at the Chabot Space & Science Center and learn how to grind, shape, polish, and figure mirrors for reflecting telescopes, under the guidance of EAS volunteers. The workshop is free; participants pay only for the mirror blanks and grinding tools, which generally cost between $100-$300, depending on the size of the mirror. All the instruction, grinding grit, testing equipment, and camaraderie is free of charge! For more information, email Richard Ozer at pres@eastbayastro.org, or come by the workshop any Friday to see what it's all about.
---
Outreach
EAS sends volunteers to schools, libraries, and anywhere curious aspiring astronomers gather. EAS volunteers bring their own equipment or borrow telescopes. Students, parents, and teachers are always thrilled to look through the telescopes and ask questions. You'll meet all sorts of interesting people and provide a unique and inspiring experience to kids and parents who may have never looked through a telescope before. Find our next event on the calendar above.
Inquire about and request visits by e-mailing EAS Outreach Coordinator Ray Howard at RaymondHow@aol.com. Visit our outreach page to find out about upcoming outreach events.
---
Members Only Viewing Nights (MOVN)
Once a month, we schedule a Members Only Viewing Night at the Chabot Telescope Deck for both EAS and Chabot members. This is our opportunity to look through Chabot's historic instruments and research telescope, as well as bring our own equipment to share in a more quiet venue. The schedule for MOVN appears in the event calendar below.
---
Event Calendar
Header photo by EAS member Alan Roche.