Upcoming Events
Events are open to all members and the general public. Sign up for email event updates by registering with Night Sky Network.
Most of our events happen at the Chabot Space and Science Center. Get directions here.

Next General Meeting
Saturday, February 23, 2019
Chabot Space and Science Center

Our Speaker is Javier Barbuzano, Sky and Telescope and El Pais

The Moon Mess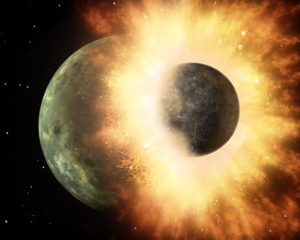 For several decades after the last of the Apollo missions, scientists have thought that the question of the origin of the Moon was largely settled. The Moon was created about 4½ billion years ago, when a Mars-size body and the proto-Earth — both with atmospheres and, likely, surface oceans — crashed into each other.
While the giant-impact hypothesis successfully explains most of the peculiarities of the Moon, such as its geochemistry, lack of a metallic core, or its late formation relative to other objects in the solar system, over the years more and more evidence has shown that we still don't know all the details. Isotopic ratios of certain elements — which can trace the origin of bodies in the solar system — have revealed that the Earth and the Moon are virtually made from the same stuff. Recently, researchers have also found more water than expected in the composition on lunar samples returned to Earth by the Apollo missions.
In this talk we will review the origin of the giant impact theory, address some of these open questions and take a look at what scientists worldwide are doing to find a suitable explanation.
Javier Barbuzano is a freelance science journalist based in Barcelona, Spain. He started working in science communication in 2010 with an internship at the Instituto de Astrofisica de Canarias (Canary Islands, Spain). From there, he got positions at University of Florida Astronomy Department (Gainesville, Florida), and then at the European Southern Observatory Headquarters (Munich, Germany).
In 2016, he returned to school at Boston University to get his Masters in Science Journalism. While working towards his degree, he interned at the Harvard Stem Cell Institute and at Sky & Telescope magazine. After graduation, he started working as a freelance science journalist. His in-depth review of the unsettled theories on the formation of the Earth's Moon appeared in the August 2018 Sky & Telescope issue.
Special Events
EAS 2019 Annual Awards Dinner: Evening of Sunday March 10th.
Please join us for for an evening of fun, good food and an interesting presentation. This year's speaker, perfect for the 50th anniversary of the moon-landing, will be Bob Fish, Apollo Program Curator for the USS Hornet Museum.
Dinner is now sold out.
Speaker-only seats will be available at the event for $10.
Barcroft High Altitude Observing (EAS members only): Nights of Monday July 29th – Saturday August 3rd.
Each year, EAS runs an excursion to UC Berkeley's Barcroft High Altitude Research Station in the White Mountains above Bishop, CA.
This is a total of 6 possible nights. Everyone needs to leave by noon on Saturday.
At 12,000 feet, with often bitterly cold temperatures and miles of gravel and shale roads to traverse, this excursion is not for the faint of heart. The facilities, however, are exceptional. Food and lodging is included. Oxygen is not! To reserve your spot, you must be an EAS member, and you need only click the button below to pay for your intended stay. For detailed information, download our overview of the Barcroft event by clicking here. Reserve your spot via Paypal below. (Note that those staying through the night of August 3rd will be leaving on Sunday the 4th.)
Telescope Makers Workshop
The Telescope Maker's Workshop is one of few regularly scheduled such workshops in the world! Every Friday from 7 to 10 PM, amateur telescope makers from the bay area meet at the Chabot Space & Science Center and learn how to grind, shape, polish, and figure mirrors for reflecting telescopes, under the guidance of EAS volunteers. The workshop is free; participants pay only for the mirror blanks and grinding tools, which generally cost between $100-$300, depending on the size of the mirror. All the instruction, grinding grit, testing equipment, and camaraderie is free of charge! For more information, email Richard Ozer at pres@eastbayastro.org, or come by the workshop any Friday to see what it's all about.
---
Outreach
EAS sends volunteers to schools, libraries, and anywhere curious aspiring astronomers gather. EAS volunteers bring their own equipment or borrow telescopes. Students, parents, and teachers are always thrilled to look through the telescopes and ask questions. You'll meet all sorts of interesting people and provide a unique and inspiring experience to kids and parents who may have never looked through a telescope before. Find our next event on the calendar above.
Inquire about and request visits by e-mailing EAS Outreach Coordinator Raymond Howard at outreach@eastbayastro.org. Visit our outreach page to find out about upcoming events.
---
Members Only Viewing Nights (MOVN)
Once a month, we schedule a Members Only Viewing Night at the Chabot Telescope Deck for both EAS and Chabot members. This is our opportunity to look through Chabot's historic instruments and research telescope, as well as bring our own equipment to share in a more quiet venue. The schedule for MOVN appears in the event calendar below.
---
Event Calendar
Header photo by EAS member Alan Roche.