Upcoming Events
Events are open to all members and the general public. Sign up for email event updates by registering with Night Sky Network.
Most of our events happen at the Chabot Space and Science Center. Get directions here.
---
Next General Meeting (note the time)
Saturday, August 1st, 2020
7:00 P.M. Main Speaker
Virtual Space via Zoom and Facebook Live-Stream
To watch on Facebook, please visit:
Our speaker is Rogelio Bernal Andreo, author and renowned Astro-Photographer. Rogelio will begin his presentation at 7:00 pm.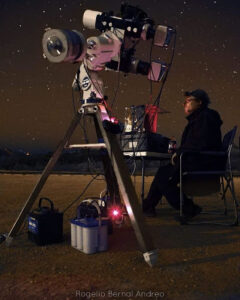 A Personal Retrospective on the Aesthetics and Challenges of Astrophotography
In his talk, Rogelio will navigate through his own past experiences as a deep-sky and nightscape astrophotographer, providing sound advice on a myriad of topics that build up to what astrophotography can ultimately mean for you.
From crafting your own personal style, finding inspiration, solving acquisition and image processing hardships, choosing astrophotography as a business, or finding new ways for storytelling, Rogelio will paint his impression of this rapidly evolving hobby, artform and technical pursuit.
Rogelio Bernal Andreo is an astro-photographer, one of the Bay Area's masters in this field, and a world renound expert in Pixinsight and image processing in general.  He has published several books on the topic, both technical and illustrative.  His latest book is "Mastering Pixinsight and the Art of Astroimage Processing". He's a frequent lecturer at the Northern California Astroimaging Conference and a great friend of Amateur Astronomy.
Rogelio has received SBIG's Award for Excellence in Astronomical Imaging, the 2010 Pleiades Award from the Advanced Imaging Conference, and the 2011 AANC Amateur Award. Additionally, he was the 2010-2014 Astrophotographer of the Year in a variety of image categories, by the Royal Observatory of Greenwich.
His website is http://www.deepskycolors.com/ and we encourage everyone to check out his work.
---
Outreach
EAS sends volunteers to schools, libraries, and anywhere curious aspiring astronomers gather. EAS volunteers bring their own equipment or borrow telescopes. Students, parents, and teachers are always thrilled to look through the telescopes and ask questions. You'll meet all sorts of interesting people and provide a unique and inspiring experience to kids and parents who may have never looked through a telescope before. Find our next event on the calendar above.
Inquire about and request visits by e-mailing EAS Outreach Coordinator Raymond Howard at outreach@eastbayastro.org. Visit our outreach page to find out about upcoming events.
---
Members Only Viewing Nights (MOVN)
Once a month, we schedule a Members Only Viewing Night at the Chabot Telescope Deck for both EAS and Chabot members. This is our opportunity to look through Chabot's historic instruments and research telescope, as well as bring our own equipment to share in a more quiet venue. The schedule for MOVN appears in the event calendar below.
---
Barcroft High Altitude Star Party
We're sorry. Because of COVID-19, EAS has cancelled the 2020 Barcroft High-Altitude Star Party. We'll try again in 2021.
---
Event Calendar
Header photo by EAS member Alan Roche.