Upcoming Events
Events are open to all members and the general public. Sign up for email event updates by registering with Night Sky Network.
Most of our events happen at the Chabot Space and Science Center. Get directions here.
---
Next General Meeting
Saturday, November 20th, 2021
Our meeting begins promptly at 7:00 P.M.
Meetings are held in Virtual Space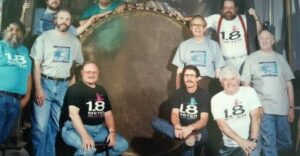 Our guest speaker for the evening is Richard Ozer, EAS President and David Barosso, Group 70 President and Co-Director of the Telescope Makers Workshop.
The Group 70 Amateur Telescope Project
Thirty years ago, a group of EAS telescope makers had the crazy idea of obtaining the 70 inch backup mirror blank originally cast for a very well known telescope here in California. It wasn't just talk; they actually bought it and founded a California non profit called "Group 70", and for several decades have quietly and patiently ground, polished and figured the glass. Now, the entire telescope is nearly complete.
Although not the first 70″ amateur effort to be attempted and completed, this telescope will be the first of its size to undergo optical grinding, polishing and professional fabrication. Like cathedral's of old, it has become a multi-generational project whose structural completion is now in sight. Join David Barosso, Rich Ozer and EAS in a presentation about Group 70, a discussion of where the project stands, and some of the ideas for the future of this endeavor.
This talk will be available live and publicly at:
EAS Members will get a private Zoom invitation by Email
---
Outreach
[In person events are on hold because of COVID, contact us for possible virtual events, or visit http://www.chabotspace.org for scheduled public virtual telescope viewing events]
EAS sends volunteers to schools, libraries, and anywhere curious aspiring astronomers gather. EAS volunteers bring their own equipment or borrow telescopes. Students, parents, and teachers are always thrilled to look through the telescopes and ask questions. You'll meet all sorts of interesting people and provide a unique and inspiring experience to kids and parents who may have never looked through a telescope before. Find our next event on the calendar above.
Inquire about and request visits by e-mailing EAS Outreach Coordinator Raymond Howard at outreach@eastbayastro.org. Visit our outreach page to find out about upcoming events.
---
Members Only Viewing Nights (MOVN)
[In person events are on hold because of COVID, visit http://www.chabotspace.org for virtual telescope viewing events]
Once a month, we schedule a Members Only Viewing Night at the Chabot Telescope Deck for both EAS and Chabot members. This is our opportunity to look through Chabot's historic instruments and research telescope, as well as bring our own equipment to share in a more quiet venue. The schedule for MOVN appears in the event calendar below.
---
Barcroft High Altitude Star Party
We're sorry. Because of COVID-19, EAS has cancelled the 2021 Barcroft High-Altitude Star Party. We'll try again in 2022.
---
Event Calendar
Header photo by EAS member Alan Roche.