Upcoming Events
Events are open to all members and the general public. Sign up for email event updates by registering with Night Sky Network.
Most of our events happen at the Chabot Space and Science Center. Get directions here.
---
Next General Meeting
Saturday, June 18th, 2022
Our meeting begins promptly at 7:00 P.M.
Meetings are held in Virtual Space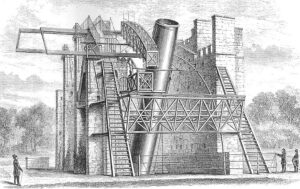 Our guest speaker for the evening is Dwight Lanpher, Dark Sky Maine
The Leviathan of Parsontown
Any review of the history of astronomy will likely discover a large telescope called the "Leviathan of Parsonstown". Built in Ireland in 1845 by the 3rd Earl of Rosse, it was the largest telescope in the world for 70 years until surpassed by the 100″ Hooker Telescope on Mt. Wilson. Each of two 72″ speculum mirrors were alternately mounted in a 54′ long tube, suspended between two purpose built castle walls. Amateur astronomer Dwight Lanpher will speak about his visit to Birr Castle, County Offaly, Ireland to examine "the Great Telescope." His technical presentation will show detailed photos and drawings of how the telescope was operated and the modifications that were made during a $1,200,000 renovation in 1995. Images will also include the last remaining of the two, 3-ton, speculum mirrors examined during the return trip at its current location at the Museum of Science in London.
When not visiting ancient telescopes, Mr. Lanpher travels throughout New England and eastern Canada attending astronomy meetings as liaison for clubs in Maine, New Hampshire and a few in Massachusetts and observing at their star parties when the opportunity avails. Professionally, Mr. Lanpher works as a licensed professional Electrical Engineer.
This talk will be available live and publicly at:
EAS Members will get a private Zoom invitation by Email
---
Telescope Makers' Workship
The Telescope Maker's Workshop is one of few regularly scheduled such workshops in the world! Every Friday from 7 to 10 PM, amateur telescope makers from the bay area meet at the Chabot Space & Science Center and learn how to grind, shape, polish, and figure mirrors for reflecting telescopes, under the guidance of EAS volunteers. The workshop is free; participants pay only for the mirror blanks and grinding tools, which generally cost between $100-$300, depending on the size of the mirror. All the instruction, grinding grit, testing equipment, and camaraderie is free of charge! For more information, email Richard Ozer at pres@eastbayastro.org, or come by the workshop any Friday to see what it's all about.
---
Outreach
In person events are more limited because of COVID, but are being scheduled for schools and other community institutions. Contact us also for possible virtual events, or visit http://www.chabotspace.org for scheduled public virtual telescope viewing events]
EAS sends volunteers to schools, libraries, and anywhere curious aspiring astronomers gather. EAS volunteers bring their own equipment or borrow telescopes. Students, parents, and teachers are always thrilled to look through the telescopes and ask questions. You'll meet all sorts of interesting people and provide a unique and inspiring experience to kids and parents who may have never looked through a telescope before. Find our next event on the calendar above.
Inquire about and request visits by e-mailing EAS Outreach Coordinator Raymond Howard at outreach@eastbayastro.org. Visit our outreach page to find out about upcoming events.
---
Members Only Viewing Nights (MOVN)
[In person events are more limited than in the past because of COVID, visit http://www.chabotspace.org for virtual telescope viewing events]
Once a quarter, we schedule a Members Only Viewing Night at the Chabot Telescope Deck for both EAS and Chabot members. This is our opportunity to look through Chabot's historic instruments and research telescope, as well as bring our own equipment to share in a more quiet venue. The schedule for MOVN will appear in the event calendar below.
---
Barcroft High Altitude Star Party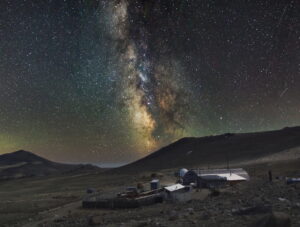 Reservations for the Eastbay Astronomical Society's Barcroft High-Altitude Star Party are now open to members of both the EAS and Tri-Valley Stargazer's clubs. This year's event will be held from Saturday August 27 through Friday September 2nd (with departure by noon of Friday September 2nd). That's six nights.
Before sending payments for reservations ($65 per night, per person), even if you've been there before, please contact Don Saito FIRST (barcroft@eastbayastro.org) to ensure the dates you wish to attend are available. You will also be asked to read the Barcroft Writeup, as it provides the information you'll need to have a safe, comfortable stay, and what is expected of guests to this University of California research facility.
You must also review and sign the White Mountains Research Center COVID Terms and Conditions.  You can scan and email the signed copy to barcroft@eastbayastro.org. You may also mail the signed document to EAS, PO Box 18635, Oakland, CA, 94619-0635
So, four steps to apply:
1.  Email photo evidence of Covid-19 vaccination/booster to barcroft@eastbatastro.org
2.  Attest in writing/email that you read the current Barcroft Writeup and COVID Terms.
3.  Email Don Saito at the above address to check reservation availability and make reservation.
4.  Pay the number of days reserved via PayPal or check/snailmail.
Space at Barcroft is limited to a maximum of 12 people per day, so to ensure you get the days you want, make your reservations early.
Barcroft is one the premier amateur astronomy view sites in the world, and it's slightly less than a day's drive from the Bay Area to its location in the White Mountains.
---
Spring Calstar
Spring Calstar is schedule for April 28 – May 1st at Lake San Antonio. For more information visit https://calstar.observers.org/
---
GSSP 2022
The 2022 Golden State Star Party is accepting registrations. This year's event will once again be held at Frosty Acres Ranch in Adin, CA. The dates this year are June 29 – July 3rd (four nights). For more information visit http://goldenstatestarparty.org
---
Event Calendar
Header photo by EAS member Alan Roche.